Colorado Stoneworks Landscaping
Your neighborhood landscaping experts. We're only a call away!
Colorado Springs Landscaping, Fences, Sprinklers, Snow Removal, & More!
Colorado Stoneworks Landscaping is a full service residential and commercial Colorado Springs landscaping company. Services include property maintenance, landscaping (xeriscaping, planting, sod, etc.), fence installation and repair, fire mitigation, snow removal, and more! We are dedicated to providing professional, dependable service at a reasonable price. Call us today for a FREE ESTIMATE!
Landscaping Done Right, From Start to Finish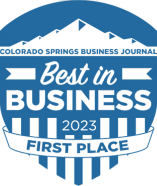 Awards and Certifications
Colorado Stoneworks has earned several awards and certifications.
Frequently Asked Questions
Colorado Stoneworks answers common landscaping questions.
After some pretty serious windy weather this Spring, many people in the Colorado Springs area found themselves in need of fence repair (or a whole new fence!). Colorado StoneWorks Landscaping is here to help! Take a look at our portfolio for some recent examples of our fence work, including a six-foot privacy fence and a
Read More »
We're honored to have once again been voted the Best Landscaping Company in Colorado Springs by readers of The Independent. Heading into 2016, we plan to continue providing high quality landscaping services to our existing customers, as well as earning the business of new customers who want to work with the best landscaping company in
Read More »
We've posted a new video showcasing some of our landscaping services. Take a look at some examples of our landscape renovations, sod work, planter beds, synthetic turf, and more! If you like what you see, contact us for a free quote on your next landscaping project.
Read More »